Ter-Tachatyan Legal and Business Consulting CJSC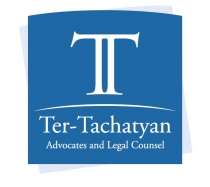 Specialization
› Labor relations
› Contractual relations
› Banking activity
› Intellectual Property
› Establishment, reorganization and liquidation of entities
› Tax relations
› Customs Relations
› Administrative claims
› Other international relations
Contact information
WORK_ADDRESS
10 V. Sargsyan Str., 108 Piazza Grande, 0010,Yerevan, Armenia
Tel:
+37410 544 691, +37410 544 692
FAX
+374 544 693
EMAIL
[email protected]
Website:
www.ter-tachatyan.am
Founders
Staff
"Ter-Tachatyan" legal and business consulting CJSC is one of first private law firms, established in Armenia, in 1997 and has since served as a legal guideline for those in need of professional legal advice.
As a result of years of consistent and good work, a strong and professional team of advocates and counsels has been created in the company, which has an established and fixed experience and is specialized mainly in area of business law.
Fundamental principles of company activity are, among others, delivering high quality legal services, improving legal and business environment, ensuring effective problem solution.